Mercure Hotel Sydney Airport Case Study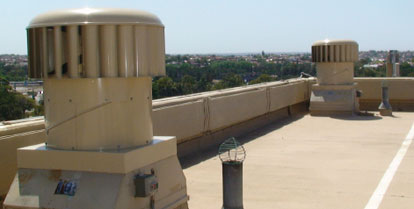 Location:
Mercure Hotel
Sydney Airport.
Business:
Resort Style 4 Star Luxury Hotel, opposite Kogarah Golf Course, Cooks River and surrounded by parklands.
Task:
Bradford Ventilation was consulted to provide a quiet but energy efficient bathroom ventilation system to remove odours and moisture from high-rise ventilation ducts as an alternative to older, three phase, centrifugal fans which were energy thirsty and providing noise concerns to some hotel occupants.
Solution:
The intention was to substitute all 17 centrifugal fans with Bradford Ventilation Ecopower EP600 units, initially 2 x EP600 units, each with a capacity of 3910m2/hr as per AS4740:2000 have been installed on ventilation shafts. An additional EP600 has been installed to prepare a failed axial fan.
Result:
Steve Eames - Chief Engineer, Mercure Sydney Airport, monitored the performance of the two units and is very pleased with progress. Flow pressure naturally decline with depth of the stack but overall bathroom ventilation performance is within the acceptable range. The low energy consumption expectations have been confirmed and payback on the entire project is expected to be less than two years. Importantly noise issues are solved by the use of ecopower EP600 on the ventilation shafts. The success of this limited trial will make the ecopower an economical and eco-friendly system that can be employed across the Accor Hotel Group, and indeed opens up wider opportunities for this technology to replace three phase centrifugal fan units on ventilation shafts across many hotel groups. The potential greenhouse gas savings on a global scale are very significant.