The search for lower cooling costs in your home during the sweltering summers is over!
Odyssey is a smart, energy efficient, free air cooling system for your home. It also provides thorough ventilation of the home to remove odours, allergens and freshen the air.
Designed and built in Australia to meet the demands of the harsh Australian climate, Odyssey can lower your cooling costs by taking timely advantage of the natural temperature differences.
*RRP only. Pricing does not include installation
Odyssey is the answer for reduced energy consumption
Odyssey's sensors will constantly monitor the temperature and humidity inside and outside your home and draw in fresh air from outside to cool in summer, warm in winter and help manage potentially damaging condensation and unhealthy mould.
Odyssey can exchange the air in a 150m2 home four to five times in an hour using around the same power as a single halogen down light.
Just a few of our reviews from Odyssey customers
Our house particularly during summer gets hot and muggy. As it is costly to run our air conditioning system for lengthy periods we decided to look in to an alternative to cool our house. Once the system was installed we immediately noticed the air in the house felt fresher and the heat that used to build up after a long hot day was no longer evident. It also made sleeping on a hot night more comfortable. Scott, Acacia Gardens NSW
This weekend was such a great test. Thank you Odyssey! A heat wave and zero temptation to use the air-conditioner. Jan, Greystanes, NSW
We are the type of people who tell it how it is. We wanted the best and we got the best from start to finish, best decision we ever made. Thanks very much. John & Sylvia, Bothwell, TAS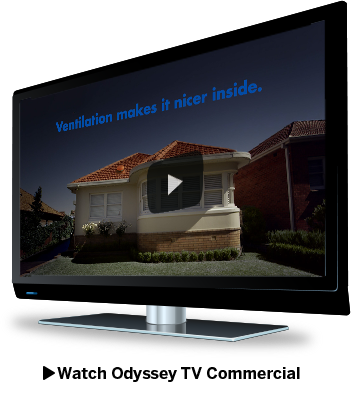 Award winning technology to reduce your energy costs
Odyssey HR2100 was recognised by AIRAH, the leading air-conditioning industry body, for its excellence in sustainability and its ability to reduce the reliance on air-conditioning to maintain a comfortable air temperature in your home. Read more…