Maestro BAL Smart Roof Ventilator
Bush fire rated, Smart Roof Ventilator
Maestro BAL Smart Roof Ventilator
Bush fire rated, Smart Roof Ventilator
Maestro BAL powered by Air iQ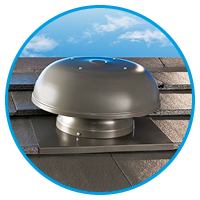 Ventilation just got smarter!
Maestro BAL now features Bradford Ventilation's new smart ventilation technology- Air iQ!
Bradford Ventilation's Air iQ detects and removes the heat and humidity in your roof space. The technology intuitively responds to the conditions in your roof space and adjusts Maestro BAL's speed to the optimal setting needed to remove heat and humidity to reduce heat, the risk of condensation, mould and structural damage to your home.
Maestro BAL is a powerful, mechanically driven ventilator that continuously and reliably improves the comfort and health of your home all year round. In addition, Maestro BAL is assessed by the CSIRO to be compliant with the fire rating requirements of AS3959-2009 up to BAL-40.
The high quality aluminium based ventilator provides four speed settings (automatic, low, medium and high) to manage excess heat and damp in the roof space, providing a more comfortable and healthier home, while complying with a ventilator required for a bush fire area..
One Maestro BAL is equivalent to six wind driven vents and can be used on a continuous and reliable basis, without reliance on the wind.
The quiet motor and low cost to run make this ventilator a valuable addition to the comfort level in your home. In addition, the Bradford Ventilation's partnership with Sensitive Choice (National Asthma Council) shows the support for Maestro BAL as a provider of better quality air, especially for those suffering from asthma and allergies.
How many Maestro BALs do I need?
The number of Maestro BALs you will need will vary based on your roof size and reasons for ventilating. As a general recommendation, 1 Maestro BAL is sufficient per 81m2 of roof space on a high setting. However, for the best ventilating results, contact the Bradford Ventilation team and we can help you with a solution custom to your needs.