Dahanu Thermal Power Station
Location:
Dahanu Thermal Power Station, India.
Business:
The Dahanu Thermal Power Station is a 500MW coal fired power station located on the west coast of India.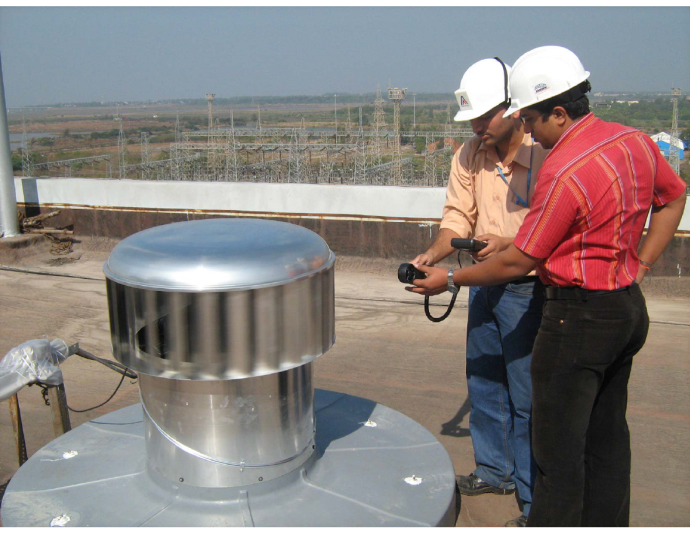 Challenge:
As part of its energy conservation measures, the plant operator Reliance Energy undertook an upgrade of the exhaust ventilation system in the Turbine Generator Hall by replacing the existing electric axial exhaust fans installed in 1996 with Bradford Ventilation EcoPower EP600 hybrid ventilators.
The original electric axial exhaust fans were unreliable, requiring frequent maintenance and consumed excessive amounts of electricity. Reliance Energy also recognised the benefit of a hybrid type ventilator that "can work consistently for a long time with or without a power supply".
A challenge for this project was that the generator hall roof had existing penetrations for the original exhaust fans. Custom transition pieces were constructed to ensure weather proofing and eliminate the need for new penetrations, or sealing of the existing openings.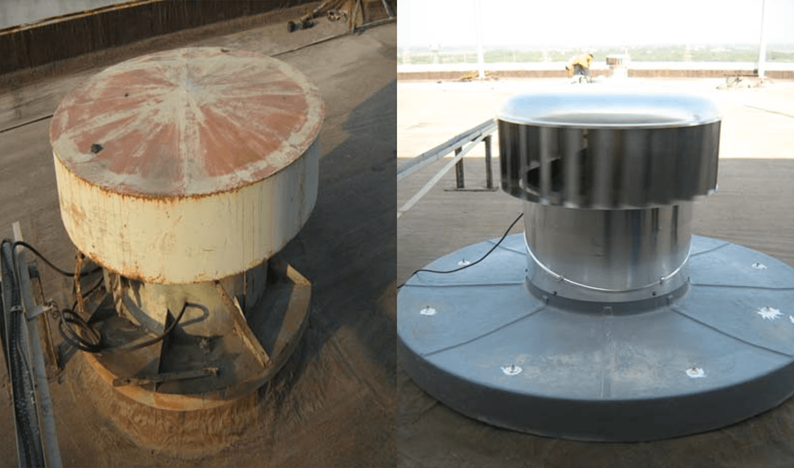 Left: The original electric axial exhaust fan; Right: The newly installed EcoPower at the Dahanu Power Station
Solution:
In 2008, the EcoPower EP600 was fitted to the roof of the generator hall at the Dahanu Power station to replace the original electric axial exhaust fans. By doing this, there was a significant reduction in energy consumption, an increase in the reliability of operations and a reduction in maintenance needed. The EcoPower provides such a solution by using wind induced negative pressure to suck out the hot air from the roof space whilst using positive pressure to draw in cooler air through an opening at a lower level of the generator hall. In low-wind conditions, the EcoPower operates mechanically offering a true hybrid ventilation solution.
Result:
The EcoPower was able to provide operators at the Dahanu Thermal Power Station with a 97% energy reduction compared to the existing motorised ventilators, whilst maintaining air flow rates. The EcoPower also operated more quietly than the existing motorised ventilators giving a more pleasant working environment.
For more information, download the full case study here: Dahanu Thermal Power Station Case Study