Caterpillar Singapore Case Study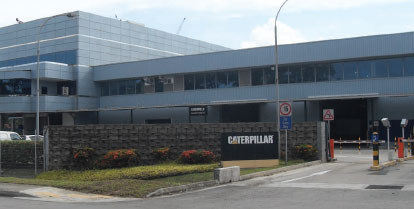 Location:
Caterpillar, Singapore.
Business:
Principal warehouse for Caterpillar products and spare parts for distribution to China, SE Asia and Australia.
Task:
Bradford Ventilation was requested to develop a ventilation scheme for the Caterpillar plant to (1) considerably improve working conditions for two working areas noted by yellow boundary on the plans provided, namely - around the general office area and container parking lot and (2) to provide general ventilation to the remainder of the warehouse.
The warehouse had two roller doors and banks of louvres at the front to provide decent make-up air but no openings around the remainder of the building. Therefore the task was to pull 'new air' across the interior of the building.
Solution:
A total of 9 x ecoPower 900 hybrid vents with thermostat speed control were recommended for use over the priority areas (4 ACH) while 29 x ecoPower 900 vents were recommended for the remainder of the warehouse (1.5 ACH). Customer elected to follow recommendations for priority area but reduced remainder to 12 units. The additional units are planned for the future.
Result:
Very pleased with the result in the problem area.
Architect:
C. S. Lee
Lee & Associates
Hurricane
Hurricane is designed and built to endure tough conditions and operating environments.
EcoPower
A hybrid ventilator that works to ensure a constant supply of fresh air for commercial industrial buildings.