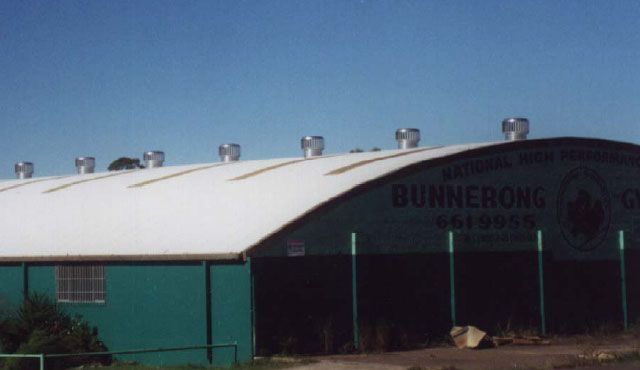 Location:
Bunnerong Gymnasium
Matraville Road, Bunnerong.
Business:
A gymnasium
Task:
Substantially improve air quality in the gym. The six IVR 760mm vents were allegedly having little impact on ventilation. Two were inoperative.
Solution:
Bradford Ventilation proposed the replacement of the 6 steel IVR vents with 7 aluminium Hurricane™ H700 Ventilators. The Hurricane™ Ventilators exhaust considerably more air than the same sized heavier steel units.
Result:
Customer found that air in the gymnasium was considerably fresher due to the more efficient performance of the Hurricane™ ventilators. This result is consistent with independent tests carried out by the University of Technology that showed a Hurricane™ H400 outperformed an IVR 400mm vent by 206% on flow coefficient. Before
Hurricane
Hurricane is designed and built to endure tough conditions and operating environments.
EcoPower
A hybrid ventilator that works to ensure a constant supply of fresh air for commercial industrial buildings.