Hurricane Fire Rated (FR)
Hurricane Fire Rated (FR) natural ventilator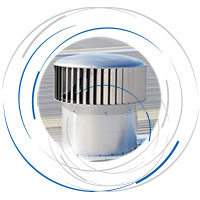 For over 25 years, the Hurricane® range vertical vane™ natural ventilation technology has been built to endure the tough climatic conditions and operating environments. Bradford Ventilation products are designed, engineered and manufactured at its ISO9001 accredited facility in Seven Hills, Australia.
Hurricane was the first industrial ventilator to incorporate vertical vane design which tests at University of Technology Sydney have shown to be have an improved co-efficient of discharge (Cd) compared to similar sized traditional spherical vents.
Hurricane range of Special Variations ventilators such as fire rated (FR) ventilator provides continuous ventilation and smoke release capability in the event of a fire. It has been tested by CSIRO and meets the fire resistant test to AS 1668.1-1998. The use of ventilation and air conditioning in buildings, Part 1: Fire and smoke control in multi-compartment buildings Section 4.8. Smoke-Spill fan. The operation of FR also does not interfere with Early Suppression Fast Response sprinkler systems.