Hurricane Cyclonic Rated Ventilator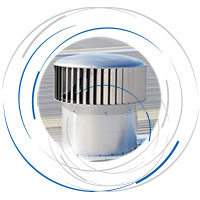 For over 25 years, the Hurricane® range vertical vane™ natural ventilation technology has been built to endure the tough climatic conditions and operating environments. Bradford Ventilation products are designed, engineered and manufactured at its ISO9001 accredited facility in Seven Hills, Australia.
Hurricane was the first industrial ventilator to incorporate vertical vane design.
The Hurricane Cyclonic Rated Ventilator is a wind-driven vent designed to exhaust heat and moisture without the use of electrical energy. It is suitable for commercial roofs (class 2 to 9) in cyclonic wind region C. It has been tested by JCU in accordance with the NCC2022 Volume 1 Specification 4 - Design of Buildings in Cyclonic Areas.
Always check product suitability & limitations of use prior to selection and purchase - refer to the Product Technical Statement (PTS) available online.