Hurricane Corrosion Resistant (S2)
Hurricane Corrosion Resistant (S2) natural ventilator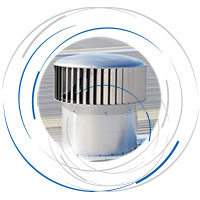 For over 25 years, the Hurricane® range vertical vane™ natural ventilation technology has been built to endure the tough climatic conditions and operating environments. Bradford ventilation products are designed, engineered and manufactured at its ISO9001 accredited facility in Seven Hills, Australia.
Hurricane was the first industrial ventilator to incorporate vertical vane design which tests at University of Technology Sydney have shown to be have an improved co-efficient of discharge (Cd) compared to similar sized traditional spherical vents.
Hurricane range of Special Variation Corrosion Resistant (S2) ventilator are designed for use in moisture rich, oxidative and slightly acidic conditions. It will also be suitable for dusty polluted environments, where abrasive particles and volatile organic compounds (VOCs) can be found. When polyolefin coated and protected, it can be applied to slightly caustic environment that is corrosive to aluminium. Applications include, sulphuric acid handling facilities, storage tanks and sewer pipe.