Hurricane Heavy Industrial (HI)
Hurricane Heavy Industrial (HI) natural ventilator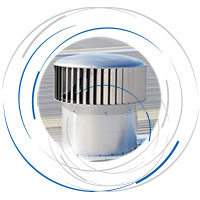 For over 25 years, the Hurricane® range of Australian engineered vertical vane™ natural ventilation technology has been built to endure the toughest of climatic conditions and operating environments. Bradford ventilation products are designed, engineered and manufactured at its ISO9001 accredited facility in Seven Hills, Australia.
Hurricane was the first industrial ventilator to incorporate vertical vane design which tests at University of Technology Sydney have shown to be have an improved co-efficient of discharge (Cd) compared to similar sized traditional spherical vents.
Hurricane range of Special Variation ventilators such as Heavy Industrial (HI) ventilator that are designed for large spaces, such as factories, where the environment is considered potentially harmful to even coated steel. A protective polyolefin coating can be applied to HI when the environment are considered potentially harmful to aluminium. It is suitable for corrosive environments with fumes pH 4-7 inclusive. Application examples for HI ventilators are ceramic plants, power coating facilities and gritty environments.
Critical components such as bearing are protected by a custom design seal to reduce the chance of contamination and corrosion.