HR2400 is a fully-automated, "set and forget", all-year-round, whole-of-home and roof ventilation solution
Internal and external sensors monitor climate conditions, allowing the system to automatically adjust the home to the desired temperature throughout the year – just set and forget on the touch screen control panel.
HR2400 removes hot air from of the roof space as well as living areas, automatically triggered by the monitoring system, thus providing maximum health & energy saving benefits. Tests by Bradford Ventilation engineers show that after two consecutive hot days, the internal temperature of your home can be reduced by 5°C with the use of HR2400 – all without turning on an air conditioner.
One Odyssey system is suitable for homes up to 150m2. Homes between 150m2 and 300m2 require two Odyssey systems.

*Prices are estimates only and do not include installation. Please request an obligation free quote for full purchase and install pricing.
Technical specifications of HR2400
Nominal system diameter:
400 mm
Electrical:
240 VAC 50 Hz
Max. 55 W
Ventilator:
Hybrid (natural & powered) backward curved centrifugal
Motor:
Electronic Commutating (EC) brushless motor
Turbine/Impeller diameter:
500 mm
Flow Rate @ ΔpsF=0:
2400 m3/hr
Noise SPL @ 2m:
36.5 dB(A)
Roof Slope Installation Range:
3° to 35°
Roof Space Minimum Height:
0.7 m (600mm rafter spacing)
0.85 m (450mm rafter spacing)
Roof Space Maximum Height:
2.4 m (600mm rafter spacing)
2.55 m (450mm rafter spacing)
Diverter Valve:
2 way, 2 position air source diverter valve
Ducting:
2 m Flexible metallised polyester film with helix wire support
Grille:
Return air type with magnetically detachable grille
Wall mounted control panel:
8.8cm (3.5") colour touch screen with 15m cable
Sensor accuracy
Temperature: ±0.4°C, Relative humidity: ±3%
ACH (Air Changes per Hour)
7
Components of the HR2400
Easy-to-use touch screen control panel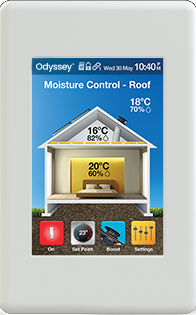 Set and forget
Odyssey will automatically provide all the comfort you need throughout your home. Plus there's a BOOST setting when you need fresh air now.
All year round comfort and protection
In summer, remove stifling hot air and freshen your home. In winter, draw in warmer, outside air to improve those cold, damp living areas.
Simple operation
Temperature data can be logged and viewed in 24 hour periods, going back six months.