Hurricane BAL natural ventilator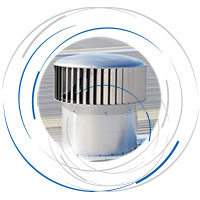 For over 25 years, the Hurricane® range vertical vane™ natural ventilation technology has been built to endure the tough climatic conditions and operating environments. Bradford Ventilation products are designed, engineered and manufactured at its ISO9001 accredited facility in Seven Hills, Australia.
Hurricane was the first industrial ventilator to incorporate vertical vane design which tests at University of Technology Sydney have shown to be have an improved co-efficient of discharge (Cd) compared to similar sized traditional spherical vents.
Hurricane range of Special Variations ventilators such as the BAL rated ventilator is designed for buildings in Bushfire Prone Vegetation Category 1 areas. It is designed to comply with the Deemed to Satisfy provisions of AS3959.
A list of case studies can be found here.